The Study Guide
So is there convincing evidence that a creator exists? Or is God an unlikely explanation for the universe, the world, and life on earth?
The programmes present the evidence as well as both sides of the argument but viewers are encouraged to reach a conclusion for themselves.
A Study Guide for the series has been produced to assist with thinking through all the major issues and debating points of the programmes. Key quotations from the interviewees form the basis of questions that lie at the heart of the God question.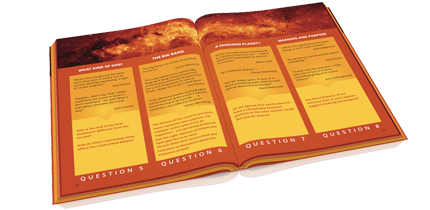 In addition to highlighting the key issues, the Study Guide also provides:
An introduction to each topic
Programme summaries
Background information on the themes
Appendices which sum up the atheist and theist arguments
A glossary of terms
Study Guides are designed for use by individuals or as the basis for group discussion.
To purchase a Study Guide in booklet form, or as a PDF, visit the store. These are also available for bulk purchase.